The popularity of synthetic wigs is widely known. Advances in synthetic fibres that allow for more manipulation have made them competitive; in the past, they were considered a lower-quality alternative to wigs made of natural hair. Nowadays, many hairdressers and clients are lured to synthetic wigs. Since the wig covers your natural hair, they are inexpensive and a terrific protective style choice.
Get Out of Your Own Way! author and seasoned celebrity hairdresser Monaé Everett boosts her appearances using fake wigs while producing huge voluminous designs. Most people believe synthetic hair is useless, but Everett asserts this is untrue. Since she has styled Yara Shahidi, Tia Mowry, and Danai Gurira's famous wigs, Everett is aware of the advantages styling synthetic wigs may provide her customers. Everett thinks anybody can style synthetic wigs at home to add diversity to their appearance if they have the necessary equipment and a well-thought-out approach.
Here are some of our favourite style suggestions for artificial wigs!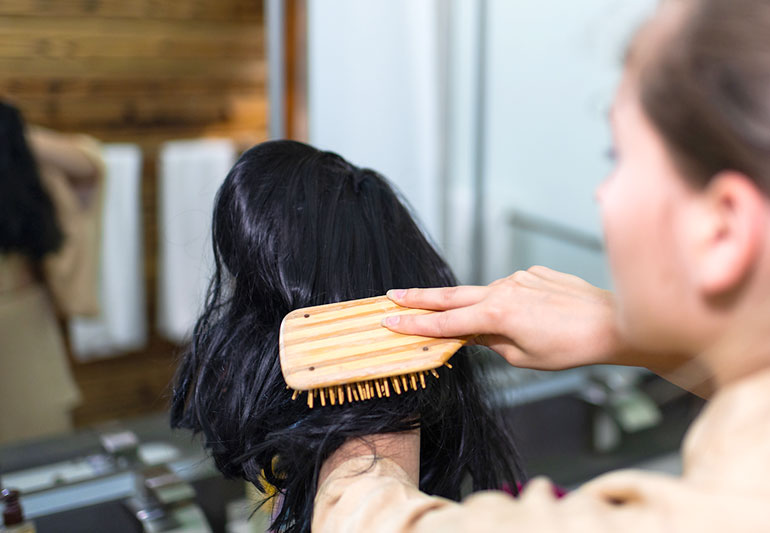 Don't be afraid of a little spritz 
Have you ever wondered how to defrizz synthetic wigs? We advise softly misting your wig with water from a spray bottle to tame frizz and strengthen limp strands.
Brush your fingertips softly together to provide a bit of additional vitality and volume.
Whenever you brush, go from bottom to top.
The next crucial step is preventing tangling with your synthetic wig.
Start around 3 inches from the bottom and brush downward with your hair brush. After that, place your brush around 6 inches from the bottom and point it downward. Once you've quickly gone through each section, go on. This technique helps to loosen curls while gently untangling your wig without tugging.
Utilize your hair ties 
The difficulty of keeping all that hair out of your face when wearing a wig! Try wearing your wig half up and half down if you discover that you need to tuck the strands behind your ears all the time. Don't be afraid to use your imagination while styling synthetic hair wigs, whether you make a little ponytail, a bun, or adorable space buns! For more choices, you might also want to look through our selection of hair accessories.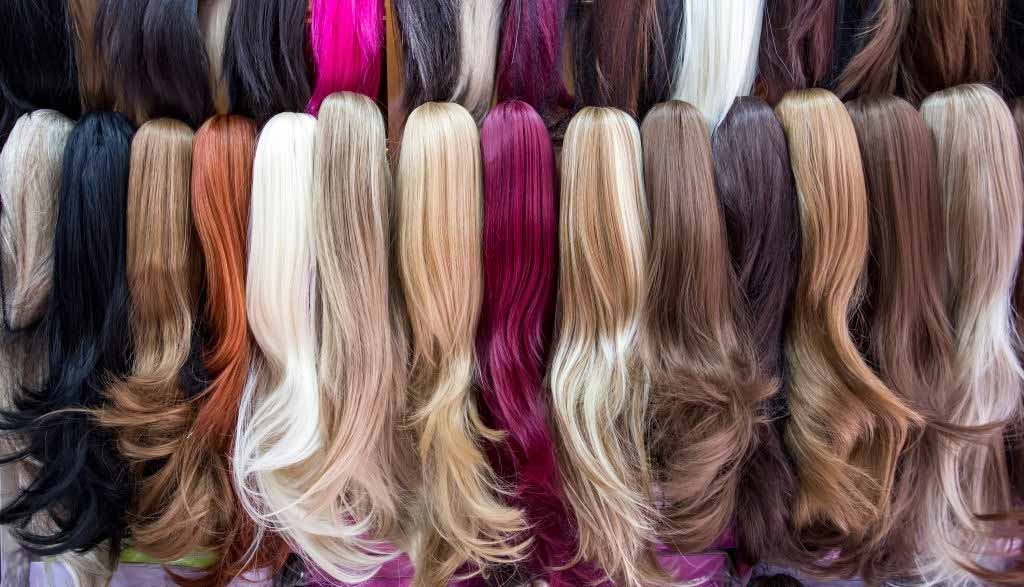 Braids are your BFF
Braiding synthetic wigs is a terrific go-to style when you want to spice up the look of your wig. It may give your wig a touch of elegance or a spiritual boho appeal. Our preferred method for braiding wigs is to take the two front strands, braid them both, and then tie them at the ends.
Don't forget the bangs
Make careful to care for your wig's bangs if it has them. To style a wig with bangs is something that frequently confounds people. Make sure to sweep them up from the bottom in an upward motion to maintain their style, then let the charges fall as they would naturally.
Everything is accessorized
Small things may have a significant impact. Add fashionable hair accessories to your wigs to turn attention and enhance your ability to express yourself. The possibilities are boundless, from scrunchies and claw clips to hair pins and barrettes. It's a straightforward approach to upgrading your appearance and giving your hairstyle a splash of colour.
Style your wig when it's scorched
Water's weight can stretch wig strands, straighten curls, and destroy curl/style patterns. After cleaning, be careful to give your wig enough time to dry.
For a safe, hands-free style, use a chin strap
You may use both hands to style your wig while utilizing a chin strap without worrying about slipping around. Additionally, you can view both the wig frame and your face while you style.
Take advantage of a styling head for a view from all angles
You can readily view the wig from all angles when using this item. This is especially useful if it's tough for you to reach up or behind your head to comb your wig. When styling, be careful to use T-pins to hold your wig to the foam head.
Brush your synthetic wig with a stainless steel brush
Good brushing is the first step in styling. A stainless steel wig brush is advised to avoid hair loss and fibre stretching with synthetic wig fibres. It is recommended to use a boar bristle brush on human hair wigs. Once you've chosen the right one, brush your wig in a way that supports the style.