How to dye a human hair wig? The adaptability of wigs is one of their finest features. You can go between being subdued and restrained one day to daring and sultry the next. Better still, natural hair wigs may be colored similarly to your hair. That implies that your hair color can also alter to match your emotions and your clothing.
How to color a human hair wig is a common and excellent question. When purchasing a high-quality human hair wig, you want to use the proper coloring methods to extend the life of the hair. Fortunately, we've put together this guide to assist you in selecting the perfect color, wig, and equipment to create your ideal hairdo.
How to dye a Human Hair Wig?
Essentials for Dyeing a Wig
Your hairpiece may be colored in various ways, each requiring a particular set of equipment. You can pick a different dying technique based on the type of wig, its original color, and the color you want. The two most popular techniques for coloring a human hair wig are water-coloring or applying the color with a brush.
The watercolor dyeing technique is particularly labor-intensive, but for a good reason—it works more quickly and efficiently than other techniques. Your wig is submerged in a mixture of hot water and hair dye while you "watercolor." If you use this technique, you might wish to take safety precautions to safeguard the lace and knots.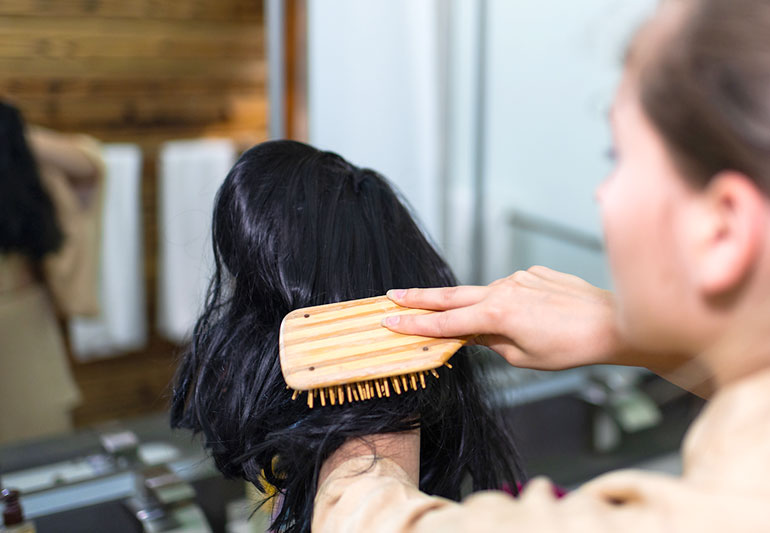 Using a dye brush or your hands to apply color directly to the item is a more well-known hair dyeing technique. This allows you more control over whatever parts of your hair you color and is very similar to how natural hair is colored in a salon. On the other hand, it can take a while, particularly if you're trying to dye the entire wig a single color.
After keeping those two techniques in mind, let's discuss the specifics of how to color a human hair wig.
Build Your Hair Dye Toolbox
How to color a human hair wig? Start with the right tools. Use this checklist to get started:
Dye brush
Wide-tooth comb
Dye (amount will depend on thickness, length, and color of the wig)
Bleach (only if you're dyeing dark hair light or bold color)
Glass bowl or ceramic bowl for mixing, or large plastic tub for water coloring
Whisk
Long, plastic spoon to mix dye in water for water coloring
Spatula
Gloves
Wig head
A towel that can get stained
Wig/unit to be dyed
Keep your unit's density in mind while gathering your materials and preparing to color your wig. From 130 percent (light) to 200 percent, density can be found (heavy). You'll need more product if your wig is denser. Additionally, the preparation and hair dyeing will take additional time.
Prepare the Hair
Before using any dying technique, you should set up the device for the most significant outcomes.
1) Wash your wig: This is crucial if the hair isn't virgin or if you've used chemicals or styling items to prepare your wig. Before dying, only shampoo, no conditioner.
2) Allow the wig to completely dry: To give it enough time to dry, we recommend washing it a few days before dying. As an alternative, you can blow-dry your wig correctly.
3) Comb the hair: After attaching the unit to a wig head with T-pins, carefully comb the hair to eliminate any knots. To prevent tangling, brush hair upward, starting at the ends. The hair must be flat and free of knots for optimal results.
Step-by-Step Guide for Checking How to dye a Human Hair Wig
Step-by-step instructions for dying your Real Hair Wigs For Women are now available—this is the moment you've been waiting for. Hot tip: Always test a little section of your wig before dying the whole thing! Let's begin:
1) Place the clean, dry wig in a secure, level place.
2) Apply styling gel to the lace until it is thoroughly covered to protect it from the dye. To blow-dry, the gel, use a cold setting and leave it on all night. Dry after using a freeze spray to seal the dried gel.
3) For watercolor:, add just hot enough (nearly boiling) water to a plastic container to cover the wig or bundles. After adding the dye, use a big spoon or a whisk to thoroughly combine the water and shade.
4) To use a brush to apply the color, combine the hair developer and hair dye in a glass bowl as directed on the product packaging. Put on gloves!
a) Brush the dye into the hair while it is lying flat, covering all strands while avoiding the lace and hair knots close to the scalp. The unit can also be dyed while attached to a wig head. However, this method works best for accentuating particular hair textures.
b) Let the hair dye sit on as directed on the package.
c) Rinse under warm water until the water is clear.
d) Use conditioner as directed on the packaging.
5) After properly drying or blow-drying the hair to your preferences on a mannequin head, ensure it's not leaking with water.